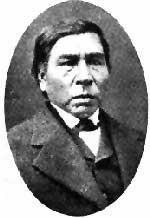 Enmegahbowh was the first Native American to be ordained a priest in the Episcopal Church. His name means "He who prays (for his people) while standing."
Enmegahbowh was an Odawa native from Canada, who joined an Ojibwa tribe in Minnesota. James Lloyd Breck started a mission there in 1851, and Enmegahbowh was trained and baptized by him. Enmegahbowh was ordained and took over a mission in Crow Wing, Minnesota, in 1851.
Enmegahbowh was a man of peace, working to bring reconciliation between the Native Americans and the United States. As his people were moved from reservation to reservation, he traveled with them, providing leadership and spiritual support. On June 12, 1902, he died at age 95 at the White Earth Indian Reservation in northern Minnesota.